Marriage is a huge commitment. As with most life-altering decisions we make, there is a certain level of stress that comes with the territory. Whether it's attempting to have the wedding of your dreams on a limited budget or it's trying to figure out who sits where at the reception, there is undoubtedly going to be some stress involved in planning a wedding. However, figuring out how to get married shouldn't be one of the many things that cause stress. This article will attempt to make clear what a couple seeking to get married needs to do in order to have a valid marriage in Virginia.
How to Get Married in Virginia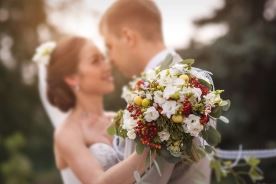 How old does a person have to be in order to get married in Virginia?
The minimum age at which persons may marry in Virginia is 18 unless a minor has been emancipated by court order.
Do I need to obtain a marriage license in order to have a valid marriage in Virginia?
Every marriage entered into in Virginia must be under a license. Marriage licenses are issued by the clerk or deputy clerk of a circuit court of any county or city in the state of Virginia. If the clerk and deputy clerk are unable to issue the license for any reason, the license may be issued by the judge of such circuit court. There is a $20.00 license tax that must be paid upon issuance of the license.
How do I obtain a marriage license?
The parties wishing to get married must state to the clerk/deputy clerk/or judge, under oath, the information required to complete the application for a marriage license.
What is a marriage certificate?
Once the clerk/deputy clerk/judge issues the marriage license, the parties will receive two copies of the marriage certificate. The marriage certificate is the document that states that the parties are legally married. The marriage certificate must be completed and returned to the clerk by the person who officiates the ceremony once the ceremony is over. One copy of the marriage certificate is kept by the clerk and the other copy will be sent to the State Registrar of Vital Records. The clerk may provide the married couple with a commemorative marriage certificate or the married couple may request a certified copy of the official marriage certificate.
Can I marry anywhere in Virginia?
Yes. You can apply for a marriage license in any city or count in the Commonwealth of Virginia.
Does a marriage license ever expire?
Yes, a marriage license expires if, after sixty days from the date it was issued, the parties failed to solemnize (or celebrate) the marriage. If a marriage license expires, the parties can apply for
and receive an additional license.
Who can officiate the ceremony?
There are several types of officiates who are authorized to perform a wedding ceremony in Virginia. First, a minister of any religious denomination may be authorized to perform a wedding ceremony if he or she can produce proof:
(1) of his or her ordination and that he or she is in regular communion with the religious society of which he or she is an alleged member of; OR
(2) that he or she is commissioned to pastoral ministry or holds a local minister's license and is serving as a regularly appointed pastor in his or her denomination.
Second, by filing a petition with the clerk, the circuit court judge may authorize any person or persons to perform a wedding ceremony as long as that person or those persons are residents of the circuit in which the judge sits and have paid a $500 bond.
Third, if the marriage is between people who belong to a religious society that has no ordained minister, the ceremony may be performed by the person or persons who performs wedding ceremonies in such religious society. The person or persons were chosen by the society to perform the ceremony must pay a $500 bond.
Others who are authorized to perform a wedding ceremony include:
(1) any judge or justice of a court of record;
(2) any judge of a district court or any retired judge or justice of the state of Virginia; and
(3) any active, senior, or retired federal judge or justice who lives in Virginia
Any person who performs a wedding ceremony when he or she is not authorized to do so faces up to one year in jail and a fine up to $500.
Are there any types of marriages that are prohibited in the state of Virginia?
There are certain types of marriages in Virginia that are prohibited and there are certain types of marriages in Virginia that are considered void. Prohibited marriages include:
(1) getting married when you are already married;
(2) a marriage between an ancestor and descendant or brother and sister (even if the relationship is formed through adoption); and
(3) a marriage between an uncle and a niece, or an aunt and a nephew.
Void marriages include:
(1) all marriages that are prohibited under Virginia law;
(2) any marriage where one or both parties are under the age of eighteen and have not obtained the required consent from a parent or guardian; and
(3) all marriages solemnized when either of the parties lacked the capacity to consent to the marriage at the time it was solemnized due to mental incapacity.
In sum, two people with the capacity to marry may enter into a marriage that is not void under Virginia law after obtaining a marriage license and having a ceremony performed by a person who is authorized to perform such ceremony.